O2 Engineering Group
Fire Extinguisher and Fire Safety Training
O2 Engineering is proud to offer fire extinguisher training to keep your team educated and safe on the job. Our Fire Safety Coordinator, Willy Kendrick, has 28 years of experience as a fire fighter with the Benicia Fire Department in California.
Our training program meets the OSHA (29 CFR 1910.157) requirements for businesses to provide education and training for fire extinguisher use to their employees.
What makes O2 Engineering Group's Training Different?
We have the ability to set up a safe and contained training prop so your employees have the opportunity to extinguish a real fire. We feel that this is the best way to train your employees in the use of fire extinguishers, as they get to interact with an actual fire in terms of heat, smoke, wind pattern, fire classification, extinguisher effectiveness, and critical thinking. Hands-on training in the use of fire extinguishers is part of OSHA's required curriculum, but often gets simplified (i.e.: spraying a cone or target) or skipped over altogether. Training programs that consist only of online-based training or power points do not meet OSHA requirements.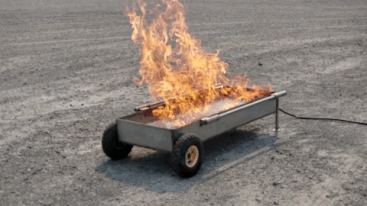 Tip:
Some clients choose to utilize their own extinguishers to familiarize their employees with the exact equipment they would be using in a fire fighting situation.


Here's what a typical training session looks like:
Instructor-led educational session in a classroom setting

Fire safety quiz

Post quiz discussion

Hands-on fire extinguishing

Certificate of completion

E-mail or phone reminders when your next annual class is due to be scheduled